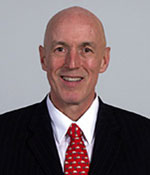 Peter C. Leonard, CPA
Mr. Leonard founded PL&Co in 1978. Mr. Leonard is an alumnus of Ernst & Young, LLP. With more than thirty years of public accounting experience, Mr. Leonard has worked his entire career in the areas of taxation and accounting. He has been heavily involved in structuring his client's business transactions, including choice of entity decisions. He has assisted clients in complex business negotiations related to the acquisition and disposition of their businesses. He has extensive tax controversy experience and practices before the United States Tax Court. Mr. Leonard has appeared as an expert witness in several business disputes. He performs tax and estate planning services for the firm's high net-worth clients.
Mr. Leonard has served as the Executive Director of the California Life and Health Insurance Guarantee Association since 1999. In his capacity as Executive Director, Mr. Leonard sits on several national insurance insolvency task forces that protect California policyholders. He is a member of the Accounting Issues Committee for the National Organization of Life and Health Insurance Guaranty Associations.
Mr. Leonard is a member of the American Institute of Certified Public Accountants, California Society of Certified Public Accountants and the State Bar of California.
Mr. Leonard received his Bachelor of Science degree in Business Administration with an option in Accounting from California State University, Northridge. He obtained his law degree from Loyola Law School, Los Angeles where he graduated Cum Laude and Order of the Coif. He received his Master of Laws in Taxation with Highest Distinction from Loyola Law School, Los Angeles. He was awarded the Lynne B. Witte Los Angeles County Bar Association Tax Section Memorial Award for Excellence in Taxation by achieving the highest grade point average in his LL.M. class.